Want to have some Kitchen Transformation Decor Ideas, rays of sunshine in your kitchen? Are you thinking of sunflowers? Well, there is no doubt that this flower is very versatile and known to be one of the most beautiful flowers. Many people know that they live in peace with their other kind. They are full of positive energy which provides happiness and luck. 
With that being said, this flower is perfect if you're looking for some inspiration to upgrade your kitchen area. Here are some ideas we have that can help you how to use it for your home: 
Kitchen Transformation Decor Ideas – Sunflower Theme
When it comes to sunflower-themed decor, you don't need to go overboard with expenses of painting your walls unless they are completely the wrong vibe and appearance for your theme. With wall and window decal stickers, they're super affordable and you can have so many options when it comes to sunflowers. Plus, it's easy to use! Just stick them over the top of your painted wall, and you're done. 
Sunflower Wall Calendar 
Another easy and cheap way to incorporate sunflowers in your kitchen is to hang a sunflower wall calendar that's filled with photos of the flower. It's one of the most effortless and affordable ways to add a focal point to the wall of your kitchen, no matter where you place it. In addition, it's also a practical way to decor your wall. And who even gets tired just by looking at the lovely photographs every month. You can always start pre-ordering a calendar for the next year in the early spring. 
Sunflower Wall Clock
Of course, a kitchen will be incomplete without displaying a wall clock, right? There are plenty of ways for you to get so many beautiful wall clocks that feature this type of flower. If you hang this amazing timepiece up on your wall, it can bring some detail to a dull area in the kitchen. 
Wall clocks are great focal points for guests and it's one of the best conversation pieces out there. It's a nice way to tell the time in a classical way. Other affordable kitchen wall decor you can place are paper borders and plagues aside from calendars and clocks then you'll be set! 
Sunflower Centrepieces 
If you're thinking of the perfect centrepiece to embellish your table, you can use a huge vase with sunflowers. Aside from putting it in your dining room, you can place them in the hall or any parts of your home. These centrepiece designs can almost fit any nook of your home. You may also mix them with other kinds of flowers to make it look more beautiful. Aside from the centrepiece, you may place some dark green velvet dining chairs to make it more bright and jolly just like what a sunflower can give. 
Sunflower Accents
You can use sunflowers and place them separately as accents in your kitchen. For a more eclectic look, you can put them inside the bottles and hang them in the kitchen or somewhere for a modern look. You may change your accessorizing with season flowers if you are going to use one set of sunflowers, such as tulips or carnation. Therefore, sunflower kitchen decor ideas will transform the space to make it more original! 
Yellow and Blue Plates 
Of course, plates are one of the best decors for your dining room, especially for your table. You may opt for the ones that are made from Melamine which is studier and won't easily break like china or porcelain plates. They will look as bold and joyful pieces of display in your dining area. 
You can also mount the plates on the wall or place them on a shelf. It's the easiest way to get inspiration from sunflower and to add some pop of colours and brightness to your home. On the other hand, your mugs, cups, or other drinking vessels can also be decorated with sunflowers which will surely become a real pick-me-up or use-me. Isn't it fun to drink your lemonade in a cheerful glass? 
Sunflower Soft Furnishings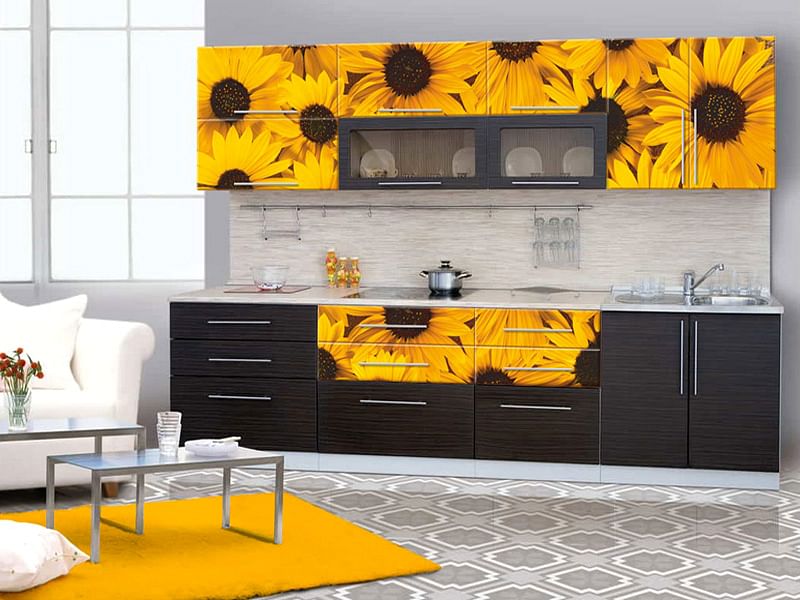 If you want to further increase the motif of sunflower in your kitchen, soft furnishings will help you out. They are best known to transform a certain space in your home drastically. New rugs, curtains, soft and plumpy cushions, and even several sunflower-themed fabric that can turn your cold kitchen into a warm and homey place where people would want to eat, sit, and chit chat instead of hurrying to get out of there. 
You may also place some yellow cushions in your dining chair since they can provide a quick and inexpensive boost of warmth in the kitchen, plus they can be really comfy, especially if you have hard seating. Make sure to arrange them properly for your kitchen to have that comfortable yet stylish look. You may buy an affordable sunflower throw pillow that can turn any boring room or tired sofa immediately with its bold tropical sunshine colours and warm, homey tones.